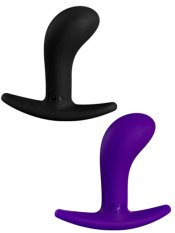 If you're just starting out with prostate play, you might feel a little nervous about anal penetration. It takes a little know-how to make it feel good, as well plenty of practice. But even guys who have been doing it for a while can sometimes need to take it slow at the beginning of a session. It makes sense- warming up and stretching before a workout at the gym makes a big difference, and there's no reason that doesn't apply to anal penetration.
I'm a big fan of the Bootie Silicone Anal Plug for that. The slim profile makes it easy to use and the asymmetric shape makes insertion much smoother than many more traditional anal plugs. The shaft is long enough to fit inside the anal canal, and the bulb is a good size to keep it in place. Plus, the base is quite slim, so it fits comfortably between your butt cheeks.
The Bootie isn't likely to reach your prostate, but it's a good way to help your body relax. Since you can leave it in place, you can wear it during solo sex or sex with a partner. Heck- you can even wear it while walking around, though you might want to practice with it at  home before going out to a restaurant! If you want a fun time, try having an orgasm while you have it in- that's a favorite of a lot of guys.
And then, of course, you can always warm up with the Bootie before moving on to a different toy, prostate massage, or pegging. Whether you want to use it on your own or with someone else, the Bootie is a fun toy.
Cleaning the Bootie is easy. Since it's silicone, it's non-porous and hot water & soap does a great job. If you want to disinfect it, wash it and then put it in boiling water for five minutes or the top rack of a dishwasher. Couldn't be much simpler.
So if you like to start off with a slim toy at the beginning of your prostate fun or if you're just beginning to explore it, pick up a Bootie Silicone Anal Plug at Good Vibrations. See for yourself how much fun it can be!