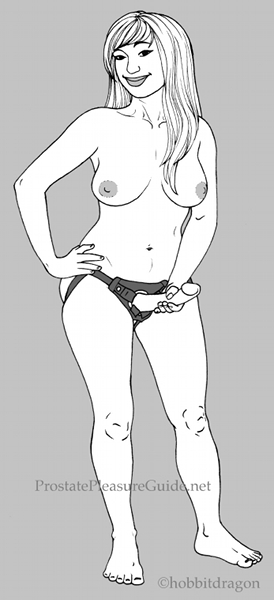 Pegging is when a woman uses a strap-on dildo to have anal sex with a man. The word was coined by Dan Savage, after he asked his readers to pick a word for this popular and fun sexual activity, although people had been enjoying this activity for quite a while before that.
Pegging is a great way to stimulate the prostate because many positions angle the dildo so it glides over the prostate with each stroke. Since the giver has the dildo fastened to her hips, both partners have their hands free to add to the pleasure. And there are lots of dildos of various shapes and sizes, so it's easy to find one that hits the spot.
Some women ask us how pegging can feel good for her. Besides the obvious answer that it's fun to pleasure a partner, plenty of women get a thrill from being on the giving side for a change. Depending on how the base of the dildo sits on the body, it can press into the clitoris with each stroke, which adds real physical gratification. There are also some toys like vibrators, vaginal balls, and butt plugs that can be worn while pegging to increase her stimulation. And using a double dildo, either with a harness or on its own, ups the ante even more!
Harnesses come in a variety of styles. One-strap models are easier to control, but some women dislike the way the center strap feels. Two-strap versions take a bit more practice to use, but they're more comfortable and since they don't block access to the vulva or vagina, they make it easier for the wearer get some stimulation while wearing it. Although leather harnesses look great, they're harder to clean (which is obviously an issue when it comes to anal play). There are lots of fabric harnesses that can be put in the washing machine for easy clean-up!
Pegging takes a bit of practice. Putting a harness on for the first time is sometimes a bit awkward. Put the dildo in the ring, step into the harness, slide it over your hips and then tighten the straps. Some people say that it helps to put it on and take it off a few times when you're by yourself, just to get the hang of it.
When you're using your strap-on, be careful to not pull out so far that you slip out of your partner's body. Without nerve endings to tell you when you've lost contact, it's easy to accidentally poke him on the perineum when you thrust, which can be uncomfortable. Try some different positions out or put a pillow under his hips to make it easier.
Curved toys usually reach the prostate easier and one advantage of dildos over penises is that you can rotate your toy if you flip him over. If your dildo shifts angles a little while you're wearing it, the curve will miss the mark. So take a permanent marker or a glitter pen and put a small dot on the base at 6 o'clock and 12 o'clock. Then, you can just look down and make sure you're on target.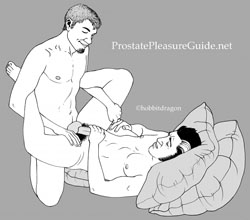 Many of the techniques that work for pegging also work for anal intercourse between two men, but there are some differences. While you obviously can't rotate someone's penis to accommodate different positions, once you find a good angle, you also don't have to make sure it hasn't shifted out of place. It's also a bit easier to keep track of where everything is when you can can feel what's going on.
When we surveyed men, we heard about lots of different techniques and positions for pegging and anal intercourse. So if you've tried it and it wasn't quite as successful as you'd hoped, pick up a copy of our book. Small changes in angle or hip motion can make a big difference and we want you both to have a great time!