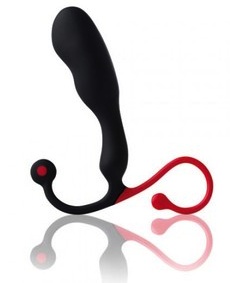 I've been a big fan of the Aneros prostate massagers ever since their first products came out. Their unique designs are based on extensive research, and they really know their stuff. But the company isn't content to rest on their past successes. They keep coming out with new toys.
On the surface, the Helix Syn is similar to the other Aneros prostate massagers. Designed for hands-free use, the toy levers into the prostate with each contraction of the pelvic floor. That means you can use it on its own, or you can combine it with other pleasures, including solo sex, oral play, or intercourse. But the Helix Syn offers amazing options that toys from other companies simply can't match.
The inner core is rigid, but the outer layer is made from their Velvet Touch Silicone. The combined texture is amazingly similar to the way that a finger feels- firm on the inside, with a softer layer around it. The Helix Syn offers sensations that are more like a massage from a finger than anything else I've ever tried.
Take a look at the part of the base that curves upward. It's meant to rest on the perineum, which creates a levering action when you squeeze the right muscles. (The same muscles that make your erection bounce. They also squeeze during ejaculation.)  What makes that arm different is that it's flexible, rather than rigid. You might think that that means you'd get less sensation, but if you have well-toned muscles, you'll have amazing control over how the toy moves.
If you've been doing your exercises, you can get the Helix Syn to provide light touch, deeper sensation, or anything in between. You do need to have pretty good muscular control to get the most out of your experience, so if you haven't been doing your Kegels, you might do better with the MGX Classic. (Here's my write-up about it.) Keeping your PC muscle in shape with Kegel exercises makes any kind of prostate play a lot more fun, so check out this post for some tips.
One thing- since the Helix Syn is so light and relies on fairly subtle motions, you'll get more pleasure from it if you aren't moving around a lot. So if you want to use it during intercourse, it works better if you're on your back with your partner on top of you. If you're doing a lot of thrusting, you probably won't have as much control over how it moves. But it's really amazing during oral sex or handjobs!
The insertable length is 4 inches (just over 10 com), so it's the perfect length to reach the prostate. It's about as wide as a finger, so it's pretty easy to insert, even if you're new to prostate play. You can use it with any water-based or oil-based lubricant, but don't use silicone lubes since some of them bond with silicone toys and ruin them. And clean-up is easy. Just wash it with soap and hot water.
When you're ready to experience a prostate massage that'll rock your world, give the Helix Syn a try. It's one of the most amazing toys I've ever used.