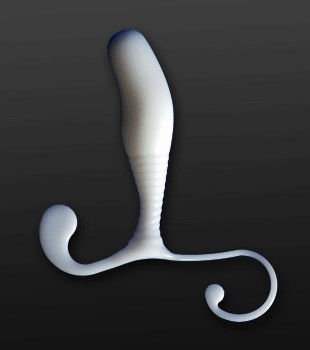 Whether you're starting out with prostate play or you've been at it for a while and want to try something new, the Aneros MGX Prostate Massager is one of the best toys around. In fact, it was one of the first toys specifically designed for prostate play and it quickly became a lot of guy's favorites!
What Makes The Aneros MGX So Good?
First off, it's an ideal size for a beginner's anal toy. It's slim, but the neck is just narrow enough to keep it in place and it's long enough that it extends past the anal sphincters. That makes it a bit more resistant to slipping out than some of the smaller buttplugs out there. Second, it's made from a hard plastic, so it's easy to clean with soap and water. You can use any lubricant with it- water-based, non-water-based, silicone or oil.
How It Works
Since it looks a bit different than many products out there, some folks find the Aneros MGX a bit confusing. The base of it is kind of s-shaped and that's central to using it. One side of the base is curved up (on the left side of the picture above) and when you have it inserted properly, this rests right in the center of the perineum, on the bulb of your penis. When you squeeze your PC muscle, whether voluntarily or not, the shaft is levered against your prostate, giving you hands-free prostate stimulation!
The prostate itself has a groove running from top to bottom on the back side. The shaft of the MGX is shaped to fit right in in that groove. You'll get a stronger pressure if your penis is erect since the base of the penis extends into the perineum and if you want to squeeze it on purpose, it's the muscle you contract when you make your erection bounce. It's also one of the muscles that squeezes during ejaculation, which makes for a really intense sensation right when everything is the most sensitive.
Some other useful tips about the Aneros MGX: it's really easy to combine with lots of sexual possibilities. You can use it during oral sex, masturbation, sexual massage and intercourse. Just about the only position it doesn't work in is sitting because the other part of the base curves away from the body in order to give you a handle for taking it out. And every time you move your hips, the Aneros will move- rock your hips from side to side and it massages the prostate from side to side. Rock from front to back and it does the same. You can even hold a vibrator against it for a really wild ride.
There are zillions of G-spot toys out there these days and many of them work just fine for prostate play as well- just look for something anal safe and you're good to go. But since the Aneros MGX is designed specifically for prostate pleasure, a lot of guys say that it works even better.
Other Choices
Aneros also makes some other models, which offer some different sensations. The Aneros Progasm is a bit thicker, which spreads the pressure out a bit more. The Aneros Helix Classic has a wider head for more prostate contact. And the Aneros Eupho Classic's thin stem makes it more agile and responsive to your PC contractions, though you need well-developed muscles to get the most from this model.
If you're not sure which one to get, start off with the MGX. It's the ideal size and shape for beginners and has a lot of fans. And if you've tried it, let us know what you think!