Prostate massage and prostate milking are two of the most popular ways to bring your partner some amazing pleasure. Your fingers are incredibly sensitive to every small change in your lover's response and there are a lot of different techniques you can use to tease and arouse. Plus, you can combine your favorite finger moves with oral sex or a handjob, which will make your guy's toes curl! But however you like to do it, you'll want a high-quality lubricant to keep things slippery and fun.
When it comes to lube, everyone's a bit different so you'll need to try a few out to see what works best for you. It's similar to shampoo or skin lotion- some people really don't mind and others have specific brands that they find works best for them. And with so many options on the market these days, it can seem like there are too many choices to pick just one. Here are a few tips to make it easier.
Ingredients
One of the most important factors is what your lube is made from. Water-based formulas are really easy to clean up since they just rinse off in the shower, and they come in a wide range of textures and formulas . However, your body will absorb the water in them after a while, which makes them dry out. That means you'll need to keep adding more a bit more often than some other kinds of lube.
Silicone lubricants won't be absorbed by your body, so they last longer. Plus, they don't dry out, which means a little goes a long way. But they do require soap and water to clean up and they can stain some sheets, so put a towel on the bed before you get started. If you're using a silicone toy, some of these lubes can damage them. Roll a condom over the toy, all the way down over the base, to keep the lubricant off.
Hybrid lubricants offer the best of both worlds. They contain both silicone for slipperiness and water-based ingredients for easy cleaning. While not as long-lasting as pure silicone, they have great staying power and many people find them more convenient.
Texture
For pegging and anal intercourse, most people prefer thicker lubricants because they give you some extra cushioning for the back-and-forth motion. For prostate massage, though, that's often less of an issue since your fingers usually aren't moving as deeply or as quickly. So while a thick formula is definitely worth trying, it's worth experimenting with a thinner one. Which one you and your partner like will be affected by what massage or milking moves you enjoy.
Three Great Lubricants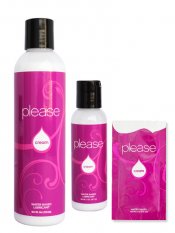 Please Cream Lubricant by Pleasure Works is a great choice if you want a super slick time. The light, creamy texture feels amazing and the long-lasting formula has been getting a lot of fans. It's fantastic for for prostate massage and milking since you won't have any stickiness to get in the way of your pleasure.
It's primarily water-based, but Please Cream does contain a small amount of silicone to make it more slippery. However, it's safe with silicone toys because of the small concentration. Another plus to Please Cream is that many of the ingredients are all-natural, and it's glycerin-free and paraben-free. Glycerin can be irritating when used anally and some people have concerns about parabens and safety, making this is an excellent option.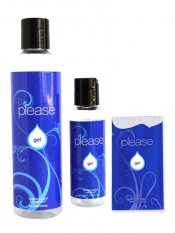 If you want a lube with a little more cushioning, give Please Gel Lubricant a try. The thicker texture makes sure it stays in place and it's great for folks who are more sensitive or who like an in-and-out motion. But don't worry- unlike some thicker lubricants, Please Gel is still very slippery. Like Please Cream, this one is glycerin- and paraben-free and it's safe to use with silicone toys. If your prostate massage is a warm-up to pegging or intercourse, start off with the Cream and then switch to the Gel to get the best of both worlds.
Both Please Cream and Gel come in different sizes, so you can see what you think before stocking up. And the single-use packets are great for traveling since you don't have to carry a whole bottle. (They're airport security-friendly, too!)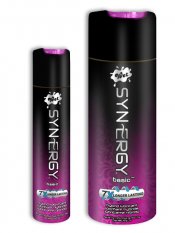 If you want long-lasting and cushioning, Wet Synergy is a fantastic choice. It's a blend of water-based and silicone ingredients, which makes it easy to clean and incredibly long-lasting. It's thick enough to be really comfortable, while being slippery enough to allow for all kinds of massage fun. One of the best things about Wet Synergy is that you get the incredible experience of a silicone lubricant without any difficulty with cleanup. A shower, or even wiping up with a damp washcloth, takes care of it. And since it's a thicker formula, it stays right where you put it.
If you're planning on using a silicone toy after your massage fun, you have two choices. You can cover your toy with a condom, or you can do a spot test. Put a little Synergy on the underside of the base and let it sit for five minutes before wiping it off. If there's a sticky or raised spot, you have an incompatible toy. Some reviewers have reported that high-quality silicone toys, like those made by Vixen, Tantus, and Fun Factory are fine with Synergy, but be sure to check yours, just in case.
Once you have the perfect lubricant, there are lots of ways to enjoy prostate massage. Whether you're just starting out or you're looking for some new tricks to drive your guy wild, we have lots of suggestions in our book. Pick up your copy at Good Vibrations or on Amazon and see for yourself how much fun you can have!