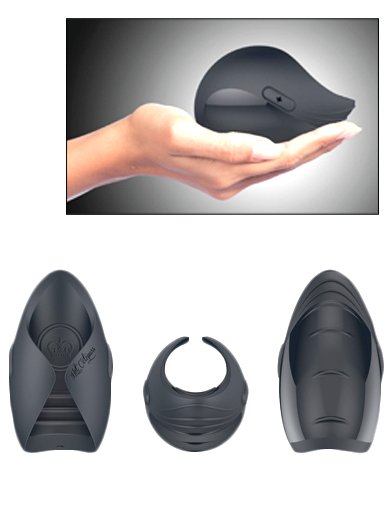 I get a lot of questions about prostate massage and pegging, and one of the most common is, "what about pleasuring the penis while we're doing this?" During a prostate massage, some people like to use their other hand for that, though it can be tricky to coordinate everything. And when you're pegging, you sometimes need both hands to hold yourself up.
A lot of people simply have the receiver stroke his cock, and that's a really fun way to do it. But if you want to turn things up to 11, you should try the Pulse Oscillating Vibrator.
If you've never used a vibrator on your penis, you have no idea what you're missing. The nerves in the penis are very similar to the nerves in the clitoris, so it makes sense that a lot of men enjoy vibrators, especially around the head. But most vibrators aren't designed with penises in mind, so they're either the wrong size, the wrong shape, or both. That's where the Pulse really stands out.
The coating is silicone, so you can use any water-based or oil-based lubricant with it. Simply lube up your cock and slide it into the toy. The wings are flexible to fit most penises, and it works with a soft and a firm cock, and there are gentle ridges for added stimulation. Inside the toy, there's a vibrator with nine speeds and it's built to focus the sensation on the most sensitive area around and under the head of the penis. Most other toys have a low-amplitude vibration, which makes them buzzy or tickly. The Pulse has high-amplitude oscillation that create a deeper sensation that feels amazing.
If you have an erection, you can easily hold the Pulse right where you want it. If your penis is less firm, you can rest the toy on your body and let it cradle your penis. Gripping the wings will squeeze the vibrator against the shaft of your penis for a deeper vibration, or you can simply allow it to vibrate against you for a lighter touch.
However you use it, the Pulse makes prostate play so much easier because it frees things up. During a massage, the giver can easily hold it in place without having to worry about trying to coordinate their different hands. It's also really simple to use during pegging, in almost any position. The one improvement that I can see would be a way to rest it on the bed so it would stay in place in a rear-entry position.
One of the best things about the Pulse is that it feels amazing no matter how firm your penis is. Since a lot of men find that anal penetration causes their erections to get softer (that may be because the muscular relaxation that allows penetration means less blood is trapped in the penis), the fact that this toy works like that is fantastic. In fact, some users even orgasm and ejaculate with a totally soft penis!
This toy is rechargeable in any USB port and runs for up to two hours, depending on the speed. Since it's silicone, it's pretty easy to clean, although you can't submerge it in water so wiping it down seems like the best bet.
Here's a short video from the maker, showing some of the other ways to use the Pulse. You can pick one on at sex-positive stores everywhere!

PULSE by Hot Octopuss from Adam Lewis on Vimeo.