There are lots of prostate toys these days! Toys give you some options that fingers and prostate massage just can't offer. They make it easier to explore prostate pleasure solo, many of them vibrate for an out-of-this-world ride, and some of them can be used during other kinds of sex, like intercourse.
This page has the general toy info you need to get started, We have lots of toy reviews, in which we get into the details about specific products and what men like about them.
First Things First: Toy Safety
Anything you use for anal penetration needs to have three things to be safe: a base, a smooth surface, and a non-porous material.
If your toy doesn't have a base, it's really easy for it to slip all the way inside and get stuck, which means a trip to the emergency room. Of course, that's not a problem for vaginal penetration, which is why there are so many toys like that out there. But for anal play, it's a different situation. Make sure anything you use has a base and you won't have to worry about it.
Since the anus and rectum are more delicate than the vagina, you'll enjoy things more if your toy is nice and smooth. Gentle bumps and ridges can be fun, but even they don't work for everyone, especially if you like an in-and-out motion. Smoother is usually better.
For obvious reasons, we need to be a bit more careful with cleanliness when it comes to anal penetration. If your toy is made from a non-porous material like body-safe silicone, glass, metal, or hard plastic, you're all set. You can wash them with soap and hot water when you're done. Some materials like silicone can be washed and then boiled in water for 5 minutes if you want to take it a bit further.
If you're using something made from a porous material like jelly rubber or PVC, simply cover it with a condom, all the way over the base. When you're done, just take the condom off! Some people use condoms on non-porous toys, simply to make clean-up faster.
Picking a Prostate Toy
Most men prefer prostate toys that have a curve, to make it easier to reach where you want it to go. Aim the curve towards the navel, whether you're face up or face down. Many G-spot toys work well for the prostate, since there are so many similarities between the two. Just make sure you use something anal-safe.
Deciding what size to get is sometimes a bit tricky. If you're just starting out, go with something slimmer. It's much better to start off small and work your way up . There are lots of prostate toys that are about the same width as a finger, which makes them good beginner's toys. And even experienced prostate players often start off a session with a slimmer toy and switch it up once they get warmed up.
If your toy is shorter than about 4 inches (10 cm), it might end up poking into the prostate instead of sliding across it. If it's longer than 8 inches (20 cm), it can jab into the curve at the end of the rectum. Of course every man's body is a bit different, so some guys really like shorter toys and some prefer longer. And since some positions push the prostate down towards the anus, while others pull it further away, you'll need to try a few different combinations out, but in general, 4-8″ (10-20 cm) is a good range to start with.
Butt Plugs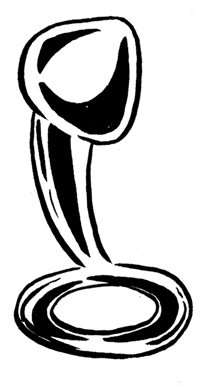 Butt plugs are usually egg- or -teardrop-shaped, with a narrow neck that connects the bulb to the base. When they're inserted into the anus, the muscles hold the neck, keeping the plug in place. They provide a feeling of fullness or pressure, without a back-and-forth motion. And since they're hands-free, you can wear them during other sexual activities, too.
For prostate play, look for a butt plug with a curve. The non-curved ones probably won't reach your prostate, although they can certainly feel good. Some guys like to use plugs to get things started and help the anus relax, rather than jumping right to prostate stimulation. One thing- if the neck isn't much thinner than the bulb, as often happens with more slender plugs, it might not stay in place very well.
Dildos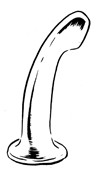 Since they have roughly the same diameter along the length, dildos are designed for an in-and-out motion. They don't stay in place when you let go of them, so they work a bit differently than plugs. The sensation of a dildo sliding across the prostate is definitely the favorite of a lot of men, whether they're using it solo, with a partner, or during pegging.
Look for a dildo that has that prostate-friendly curve or a bulbous head to reach your pleasure zone. Some dildos look more realistic, while others don't look much like penises at all. They come in lots of sizes, colors, textures, and materials, so you can find one that you like the look and the feel of.
Vibrators
Although many people think of vibrators as being for women, lots of guys use them, too. They're a fantastic way to warm up for anal play, they feel great on the prostate, and if you've never tried a vibrator on your penis, give it a shot and see how it feels. Plus, vibrators can last a lot longer than fingers, especially if you or your partner has mobility challenges like arthritis or repetitive motion syndrome.
Some men like toys that vibrate at the tip, to focus the sensation on the prostate. Others prefer to have it vibrate at the base, to stimulate the sensitive anus. And if you find that battery-powered vibes aren't quite strong enough, there are some plug-in massagers that are a much more powerful ride!
Prostate-Specific Toys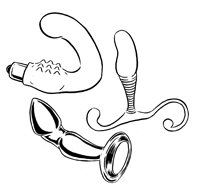 In the last few years, we've seen several new products that are made specifically for prostate pleasure, which highlights how popular this kind of sex has become! Some of them have really innovative designs and the manufacturers take feedback and input from their users very seriously. Check out our toy reviews for more information.
Looking For More Information?
Toys are a great way to add prostate play to your sex life. Grab a copy of The Ultimate Guide to Prostate Pleasure for more information about your options and lots of tips on how to get the most fun from them!