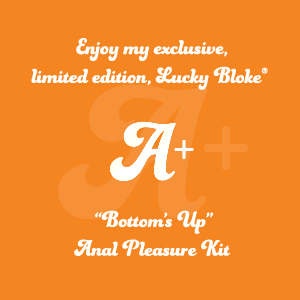 When you're on the go or on the road, it's important to have your gear ready. There's nothing worse than not being able to enjoy a prostate massage simply because you're out of gloves or lube. And when you want an evening pegging and anal intercourse, you want the best condoms around.
I've teamed up with Lucky Bloke to create the "Bottoms Up" Anal Pleasure Kit to make sure you have everything you need to make your backdoor adventures great! Each one includes:
Lube samplers: Please Gel, überlube, Sliquid Silk, Pjur Original
Condoms: Kimono Thin, Kimono MicroThin Large, Skyn, Skyn Large, Crown Skinless Skin
GLYDE Dams Strawberry & Vanilla
Intimate wipe from Swipes
Two pairs of nitrile gloves
Put one of these in your bag and you're ready for whatever happens. And at the end of the night, the Swipes Intimate Wipe makes clean-up super easy.
You can get your own Bottoms Up kit at Lucky Bloke for only $18.99. That's a great deal and it's sure to make your next night of anal and prostate pleasure even more fun!