I often get asked whether anal penetration is the only way to do prostate massage. You might be surprised to hear that the answer is no. You can do lots of fun prostate play by massaging the perineum, which is the area between the balls and the anus.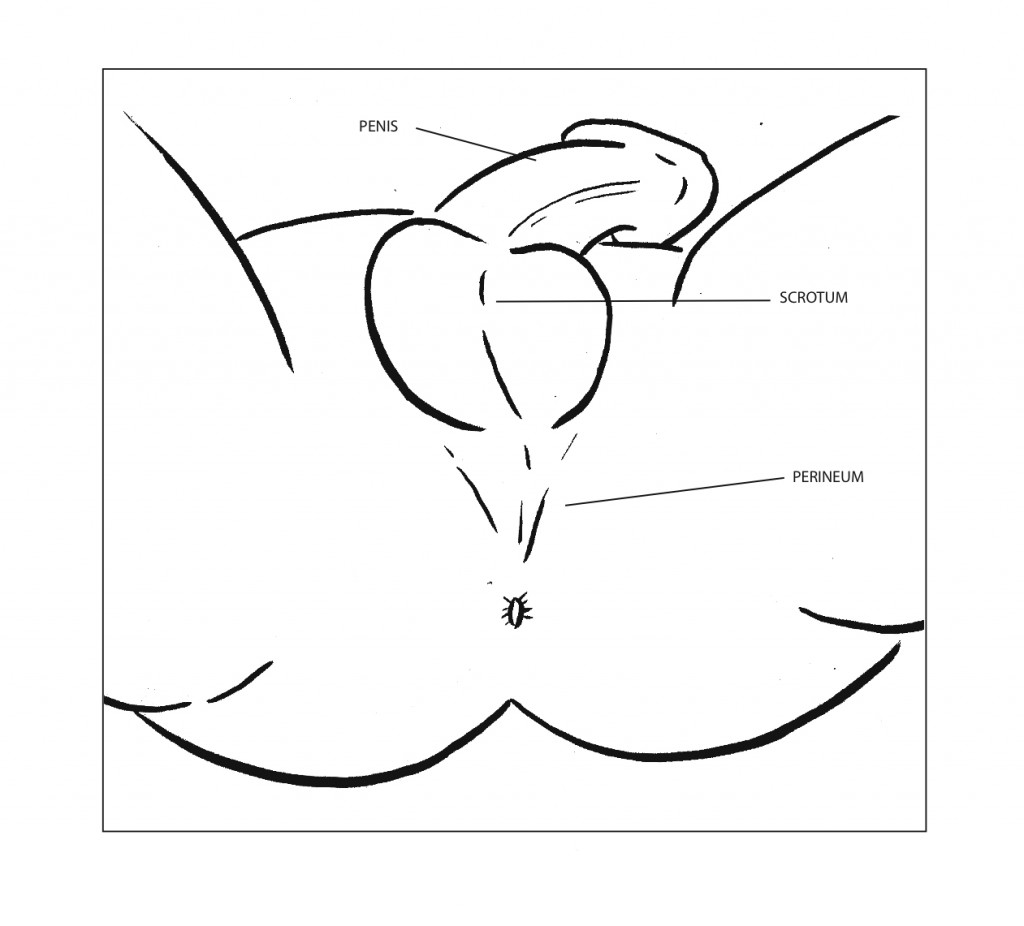 The prostate is a few inches above the perineum, so the sensations from a firm massage get transmitted through the muscles and other tissues in between, into the prostate. It's not as intense as when you do anal penetration. Think of it like massaging someone's shoulders when they're wearing a sweater versus bare skin. But it's a great way to add a little extra something to oral sex, or to try prostate sensations if you're nervous about anal play, or if you just want to enjoy prostate pleasure but don't feel like getting out the gloves and lube. In fact, so many guys enjoy it that we like calling it the "sweet spot." Besides, that's a much sexier name than "perineum."
Massaging the sweet spot is more likely to feel good on your prostate if your penis is erect since the firmer tissue will transmit sensation more deeply. Finding the right point can take a little exploration. Put one or two fingertips right behind the scrotum and push in firmly. Hold for a few seconds before releasing, and then try a spot a little further towards the anus. Try different amounts of pressure, but don't press so much that it's uncomfortable. For most men, the sweet spot is closer to the anus than the balls, but it can vary.
What you're looking for is an area where the pressure feels a bit different. It might feel like a slight tingle or other subtle sensation, especially if you've never done any direct prostate stimulation. It can be easier to find the sweet spot if you've also done prostate massage with anal penetration since you'll be more familiar with where it is and how it feels.
Try doing long presses with your fingertips, or hold deep pressure and vibrate your fingers quickly. You can also try small circles, as long as you're careful to not scratch with your fingernails. Some guys like to sit on a tennis ball or rolled up socks. And if you have a Magic Wand Vibrator (formerly known as the Hitachi), the super strong vibrations are perfect for sweet spot massage. Try it with a Silicone Pop Top for some fun variations on the texture.
If you're doing this on a partner, you can try all of those tips, on their own or during oral sex or a handjob. You can also press deeply with the heel of your hand, or even make a fist and roll your knuckles over the area as if you were kneading dough. And if you're doing prostate massage with a couple of fingers inside him, use your thumb or your other hand to stimulate his sweet spot.
It may take a while to feel the sweet spot, during this session or over the course of several sessions, so don't give up right away. Have fun doing whatever you normally do, and let this exploration be the icing on the cake. Be sure to keep up familiar forms of stimulation so that the arousal stays high.
If you are looking all over the perineum and can't find anything, take a break. Do something else you enjoy and try again in five or ten minutes. You might also try massaging the perineum during ejaculation. Since the prostate is most swollen and sensitive at that point, it's more sensitive to pressure. Just remember- this is about feeling good, so don't stress if it doesn't happen right away. Have fun!