Here's a question that came in via Facebook:
We need a good harness and dildo. I know there's issues with dildo materials being toxic, which is why I am hesitant to shop online. If you have recommendations I'd be thrilled.
The other issue I've had in the past has been dildo angle. Most harnesses cause a dildo to angle downward. I find this make anal insertion very problematic. A few dildos have an upward bend and this helps, but the harness tends to undo most of this.

Has anyone addressed this with a 45° upward harness? I think this would be a great invention. Most penises tend to angle upward like this; it makes insertion much easier for most positions.
OK, let's take this one piece at a time. You're right to be careful about what kinds of toys you use. For a long time, many sex toy manufacturers sold vibrators, dildos, and buttplugs that contained phthalates. These are chemicals that are used to soften plastics and they're commonly used in shower curtains, linoleum floors, and many other household items. Several years ago, there was some research suggesting that they weren't safe for use in baby products like teething rings because they caused neurological problems in young rats. This led to some understandable concern within the sex toy world, although the one piece of research that I'm aware of concluded that they are safe for up to one hour of use per day, except for pregnant or nursing women.
Nevertheless, a lot of people were worried about it, which led to some changes in the sex toy industry. Good Vibrations took the lead in discontinuing these products in 2007, and many other companies followed suit. Eventually most toy manufacturers stopped using phthalates, which is why you'll sometimes see "phthalate-free" on the package.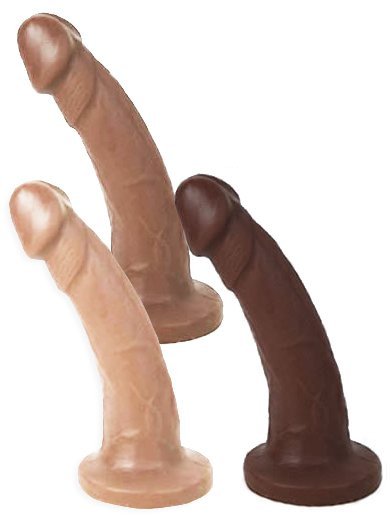 Having said all that, if you pick a high-quality silicone dildo, like those made by Vixen Creations and Pleasure Works, you don't need to be worried about it because they don't use phthalates. Plus, these dildos are non-porous, so they're easy to clean with soap and water. If you want to take it a step further, wash your dildo and then put it in boiling water for five minutes or the top rack of a dishwasher. (I'm a big fan of the Charm, and not just because I helped design it.)
So once you have a dildo picked out, you need to pick a harness that'll work. You're right that the shape of the dildo is important, especially since you'll find that a curved toy works better for hitting the prostate. But it can be tricky to get the right angle. That's usually due to the harness not holding the base firmly enough, or because of the angle of the wearer's pelvis. Let's take that one at a time.
Ideally, the base of the dildo should be right up against the wearer's body. That means that you want a harness that'll fit snugly enough to give solid support. It can be difficult if you like larger toys since the weight of the dildo will tend to pull it down, but you can minimize that if you find a harness with a good fit.
The Velvet Harness is a great one to start with since it's super adjustable and reasonably priced. Get the base of the dildo on the wearer's pubic bone. If it's too low on her body, it'll hang at the wrong angle. Adjust the waist strap, and then the thigh straps to get it firmly in place.
If you want a harness that looks a bit fancier and feels better for the wearer, try the Joque Harness by SpareParts. The material is softer and the wider waist strap often feels more comfortable. And while this harness rides a bit lower, the fabric is reinforced to minimize drooping. Some folks worry about it not holding the dildo as firmly against the body, but SpareParts does that on purpose because the base of the dildo will press into the clitoris with each thrust. A lot of women discover that they can even orgasm from pegging with one of these. And if you want something with a different look, check out the other gorgeous harnesses they make.
But even with the right harness, a dildo might hang down at a difficult angle. For some women, that's because of the tilt of their pelvis. If someone's hips tilt forward, their pubic bone will be pointing at a downward angle, which is going to make it more difficult to keep their dildo pointed upward. Stretching the lower back and strengthening the abs can help, but not for everyone.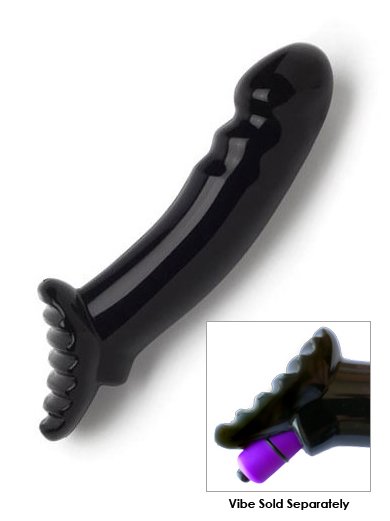 The Bump And Grinder silicone dildo is angled upwards, and the base is designed to give extra clitoral stimulation to the wearer. I haven't spoken to anyone who's used it, and I'm curious to know if it works as it's intended. I'd also like to hear about those ridges behind the head.
If your favorite dildo is tricky to get at the right angle, you can also play around with positions to make it easier. If the guy who's receiving is on his back, put a pillow under his hips to lift his ass up. The Liberator Wedge and Ramp can help. (Here's my review of them.) And you can also try holding the dildo by hand until it gets inserted, at which point, the receiver's body will support it.
I hope that helps!