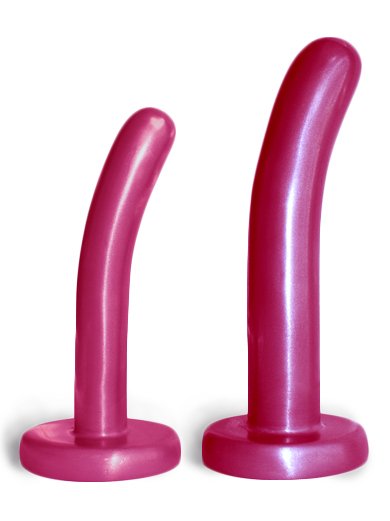 I think it's really great that more male/female couples are exploring pegging. Strap-on harnesses & dildos are a really sexy way to explore prostate play and they leave the giver's hands free for all sorts of other fun.
The tricky thing is that a lot of dildos that are slim enough to work well for anal and prostate play tend to be too short to work well in a harness. Either they slip out of the receiver too easily or they end up poking into the prostate rather than gliding along it. Ouch! So when Pleasure Works came out with the Charm Silicone Dildo, I knew they had a winner.
The Charm comes in two sizes: 5 3/4″ x 1″ (14.6cm x 2.5cm) and 7″ x 1 1/4″ (17.8cm x 3.2cm). That makes it not much wider than a couple of fingers, so it's really easy for most men to accommodate. The length makes sure that you get that gliding sensation without accidentally jabbing the prostate with the tip. It also means you can get a solid in-and-out thrusting going without accidentally pulling all the way out. So the Charm works great for the giver and the receiver!
The Charm has enough of a curve to make it easy to reach the prostate. Just angle it towards the belly button of the guy on the receiving end. That means, have the curve pointing up if he's on his back and pointing down if he's on his hands and knees. And the base is shaped like an oval (you can't see it in the picture), so it fits in harnesses even better than the usual circular bases. All in all, the Charm is a fantastic!
Want an extra thrill? Insert the Charm by hand and hold an electric vibrator like the Hitachi Magic Wand up against it. The silicone will transmit the vibration all the way up the shaft! Or slide the Charm in and out with your hand during oral sex or while using your other hand on his penis. It's a really versatile toy.
Cleaning the Charm is simple. It's made from non-porous, hypoallergenic, body-safe silicone so you can wash it with hot water and soap. If you want to take it a bit further, after you wash it, put it in boiling water for five minutes or the top rack of a dishwasher.
If you're looking for a fantastic dildo for prostate pleasure, especially pegging, get the Charm Silicone Dildo. Excellent design, easy to clean, and sure to put a smile in his face!