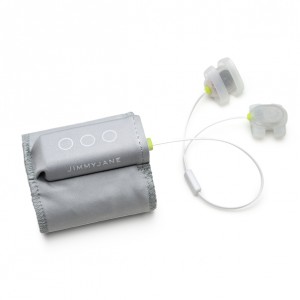 I'm a big fan of prostate massage and there are a lot of great finger moves to drive your partner wild. And of course, there are plenty of fun vibrators for when you want to switch things up. Now, you can do both at the same time, for an experience that's unlike anything else.
The Hello Touch by Jimmyjane isn't the first fingertip vibrator, but it's the best one yet. There's a super slim vibe inside each of the two silicone pads which are connected to the battery pack. Just slip the battery pack onto your wrist and then put the vibes on. The vibration is more rumbly than buzzy, so it penetrates deeply and creates an amazing sensation. And it's remarkably quiet, so unlike many battery vibrators, you don't have to worry about anyone hearing you. Though the odds are that you'll be making plenty of noise when you use it.
You can wear one vibe on your index and one on your middle finger for broader stimulation on the prostate, or put one on your index finger and the other on your thumb so you can massage the prostate and the perineum at the same time. Both options are pretty amazing. Using it is pretty intuitive- just do what you would usually do when you give a prostate massage.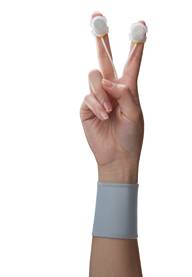 Although Jimmyjane says that you can simply wash the vibes after use, I recommend putting them on and then slipping a glove on. It works best with larger gloves since your usual gloves might be a bit too snug to slip on over the fingerpads. In most circumstances, gloves that are too large for your hand bunch up and the folds make an in-and-out motion less pleasant, but the Hello Touch works best without that particular movement because you want constant contact. So don't worry about folds from the gloves irritating the anus.
Insertion is a bit trickier since the pads add a little size to your fingertip. I suggest getting warmed up to the point of being able to accommodate two fingers before putting the vibe inside. (Yes, that means taking off your gloves and then using fresh ones, or using your other hand.) The vibration feels pretty amazing on the anus, even before you slip your fingers inside, so don't forget to do lots of external massage. The Hello Touch is an amazing way to warm up for anal penetration.
Once you have the vibrator pads on the prostate, you'll probably find that it works best when you have constant touch. So the "come hither" motion doesn't work as well as maintaining contact and varying the pressure. Or move in circles, slide down from the deep end of the prostate, or use one finger to keep the vibrator touching the prostate while another finger curls and taps it. Any of those will work better than an on-and-off massage technique, and when you find the right one for your partner, he'll definitely let you know. If you're a fan of prostate milking, you'll love the Hello Touch.
One of the big reasons I like this toy is that you can still get the closeness and connection of prostate massage, while also having the fun of a vibrator. Don't get me wrong- I like other prostate vibrators, too. But they do lack that direct intimacy of two bodies in contact, and the Hello Touch allows that.
As amazing as the Hello Touch is, I do think there's room for improvement. I'd like to be able to change the speed. After a while, the prostate gets used to a consistent level of stimulation and ramping up or down can intensify things. I'd also like to have the choice of pulsing the vibration, for the same reason. But you can always turn the vibrator off and continue the massage for a few minutes to let your partner's body reset itself. When you turn it back on, it'll feel more sensitive.
A few folks have reported that the silicone bands that hold the vibrators on your fingers are too tight. They stretch out pretty quickly, but if your fingers are large, rubber band a few pencils together and slip the vibrator over them for a while to loosen them up. And the company says that larger fingerbands and wristbands are available upon request. Hopefully, they'll be in stores soon, too.
If you want some other uses for the Hello Touch, don't forget that it can be just as fun to use it on the G-spot as on the prostate! Or play with your partner's nipples, clitoris, or penis. Use it on the testicles and perineum during a blow job. Just be sure to take the glove off after it's been inside someone's ass before doing anything else with it! And women who enjoy clitoral vibration during intercourse will find that the slim profile makes this toy really easy to use in most sex positions.
The Hello Touch is made from high quality, body-safe silicone, and it's phthalate-free. It's also waterproof for easy cleaning, and runs for up to six hours on 2 AAA batteries. Jimmyjane offers a three year limited warranty, just in case. And the whole toy is small enough to make it easy to travel with, but be sure to take the battery pack out before packing it. There's no reason to make TSA suspicious of your vibrating suitcase.
Jimmyjane makes some of the most well-designed and exciting sex toys and the Hello Touch is no exception. Pick yours up today and see for yourself how much fun is at your fingertips!