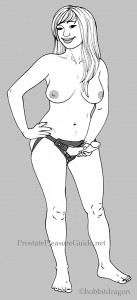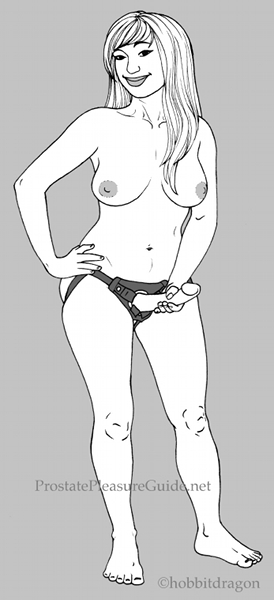 I get a lot of questions from women who want to try pegging or who have given it a shot, and want to get a little more pleasure out of the experience. Of course, lots of women get off on the experience of pegging, even if they don't get much direct physical stimulation from it. But there are also some great toys that will give you some extra action.
Some harnesses let you place the base of your dildo low enough down that it rests on your clitoris. That means that every thrust presses it into you, which can be enough in itself for some women. I even know one dedicated harness user who added a clitoral hood piercing so that the bead on the ring would hit the spot. Now, that's not something that everyone will want to do, but it does show how creative people get when it comes to sex!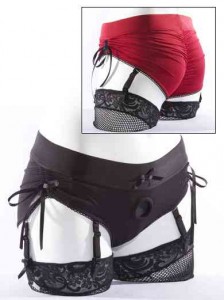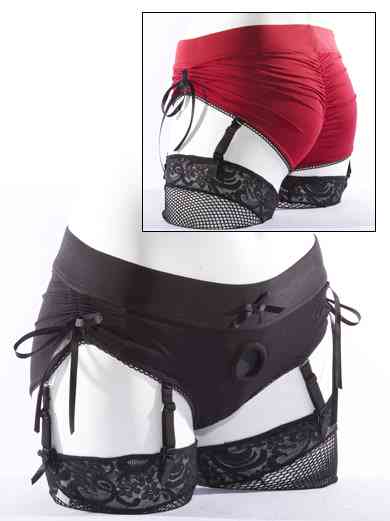 Low-rise harnesses will work better for this, and Spareparts makes some awesome ones. The Tomboi and the Sasha are especially good because they're designed to have a little stretch. When you pull back, the base of the dildo move a little away from your body, so when you push back in, you'll get even more sensation. (Here's a review of the Sasha.) One of the great features of these harnesses is that they simply pull on, so they're super easy to use. They're also machine-washable, making clean up a snap. I also like how the ring that holds the dildo is sewn in, rather that being held in by straps, because there aren't any snaps to bump into anyone's tender parts. A lot of women who have used these harnesses have said that they were able to orgasm from the clitoral stimulation, which makes pegging awesome!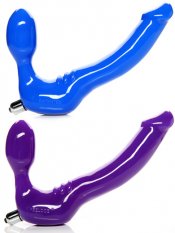 Another great choice is the Feeldoe. You insert the bulb into your vagina and use your PC muscles to hold it there while using the other end on your partner. There's also a vibrator for added fun, as well as small ridges to press against your clitoris. And just so you know, the shaft isn't as long as it looks in the photo because the wearer's body takes up a few inches of it. The insertable portion is about 6 inches (15 cm) long.
The Feeldoe can be a little tricky to hold onto, and the difficulty is that making the bulb bigger also makes it less comfortable for some women. If it slips out at the wrong moment, try wearing the Feeldoe in a low-rise harness to get a little extra support. It's a great combination.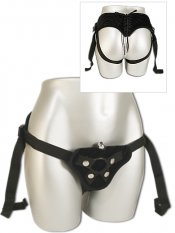 Want some other choices? Some harnesses like the Vibrating Corsette Harness have a mini vibrator that slips into a pocket in the front pad. If you enjoy vibrators, these can be a fantastic way to get some extra stimulation. These harnesses are super adjustable, machine washable, and quite comfortable. They're also a great choice if you're new to pegging because they cost less than some other models. That makes them a good starter harness for a lot of folks. Plus, the wider strap across the back looks really sexy.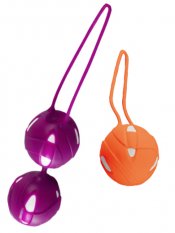 If you like G-spot pleasure, take a look at the Smartballs. They have a small marble that rolls around inside of them. Insert them into your vagina and each time you move your hips, you'll get a little hands-free G-spot action. The single ball might be easier for some women, especially during pegging, but if you want a lot of stimulation, try the double. The Smartballs are coated in body-safe silicone (including the string), so washing them is easy. I've also heard from some women who wear them when they go out dancing.
Speaking of toys that work well for pegging and for dancing, check out the Club Vibe. It looks like a standard bullet vibrator, but the battery pack picks up on any background noise to control the vibrator. It works really well at at club since each beat of the music will make it pulse. But you can also have a great time with it during sex since every time you or your partner makes a sound, the vibrator will switch on. There's a lot of potential for a feedback loop: the more noise you make, the more it vibrates and the more it vibrates, the better it feels. Just don't wake up the neighbors!
The Club Vibe 2.0 is a bit bigger, and it's designed to slip into a pair of panties for a night out on the town. But I bet it would work really well with the Tomboi or Sasha harnesses. (I haven't had anyone test this yet, so if you've given it a try, I'd love to hear how it worked.)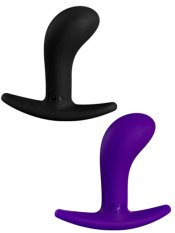 Don't forget that lots of women enjoy anal play, too. You can wear a butt plug while pegging your partner. Just make sure that the bulb is wide enough relative to the neck to stay in during vigorous action. The Bootie Plug (reviewed here) and the larger Bootsy Plug both have an asymmetric shape that makes it easier to insert. Rather than going straight in, try sliding them in on a C-curve that follows the shape of the toy. The slim base means that you can put your legs in any position without losing the toy.
As you can see, there are lots of ways to make sure that pegging is as fun for you as it is for him. It takes a little creativity and some experimentation, but it's definitely worth it. After all, sex is even more fun when you're both seeing fireworks. Have fun!