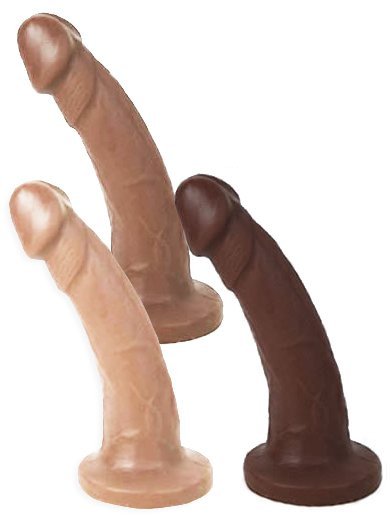 If you're looking for a great dildo for pegging, you should take a look at the Mustang Silicone Dildo by Vixen. It's an ideal toy for beginners or experienced peggers.
The Mustang is made from VixSkin, which is Vixen's amazingly realistic silicone formula. The inner core is firm, which gives you the stability you need, while the outer layer has a softer texture. As a result, the toy has a much more life-like feel, especially once it warms to body temperature. The head of the dildo is almost entirely made from the softer silicone, so in addition to being more realistic, it doesn't poke the way that some toys can.
One thing I like about all of the VixSkin dildos is that they're a lot more flexible than some other toys. They're certainly firm enough to make penetration easy, but having a little bend allows you to get into different positions. When dildos are too rigid, a small shift in angle can make them go from "yum" to "ouch." I like how the VixSkin toys makes it easy to change positions without that happening.
I'm also impressed with how life-life these dildos are. They're not totally realistic, since they're uniform in color from base to tip, but when the lights are low, that doesn't matter so much.
OK, I can hear you asking, how does it feel? The answer is "amazing!" The flexibility makes it comfortable and the firmness is just enough to be able to get good pressure on the prostate. The life-life head is an ideal shape for massaging the prostate, but if the end of the dildo happens to poke into it on the in-stroke, it's soft enough to not be uncomfortable. All in all, the Mustang feels awesome.
The Mustang is 6.5″ long x 1.5″ across (16.5 cm x 3.8 cm), so it's a pretty reasonable size, both for the giver and the receiver. And since it's 100% silicone, it's non-porous and easy to clean. Just wash it with soap and hot water. If you want to disinfect it, wash it and then put it in boiling water for five minutes or the top rack of a dishwasher. Simple! Plus, it has a round base, so it'll work with any harness with a ring, though I'm partial to the SpareParts Harnesses for their great fit and fantastic style.
If you're looking for a new dildo, I really can't say enough good stuff about the Mustang Silicone Dildo. Pick one up today and see for yourself how great it is!