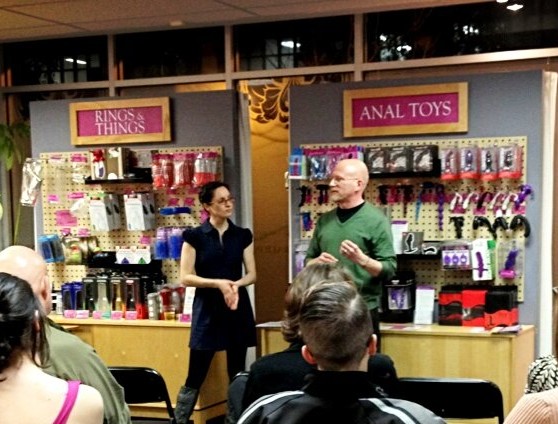 Our book launch at Good Vibrations last night was a perfect way to get our tour off to a great start! We had over 40 people show up, which just goes to show how much prostate play is getting folks as excited as we are about it.
Aislinn & I started off talking about the book, sharing some stories about her inspiration to create it and how we ended up working together. We had plenty of fun anecdotes from our surveys and interviews, including some surprising discoveries. And of course, we had plenty to say about how prostate massage and pegging can enhance your sex life, whether you're doing it solo or with a partner.
But it was when we opened it to Q&A that things really got hot. We fielded questions about everything from how to introduce the idea to a partner, to what differences we found between gay men and heterosexual men when it comes to prostate fun, to how to tell when you're massaging it correctly (hint: "stroke, don't poke"), to whether Kegel exercises can be helpful. It's always lots of fun to geek out with Aislinn, especially for the Good Vibrations crowd. They had so many great questions!
I have to say that it was a real thrill to get to sign books, too. The book only arrived in the store a few days ago, so this was our very first time (other than the copy I gave to my sweetie). And seeing so many people who were looking forward to going home and trying out some of our tips was amazing!
If you missed us last night, come to our second launch party at Good Vibrations Oakland. Here's the info:
Good Vibrations Oakland
3219 Lakeshore Ave.
February 6, 6:30-8:30pm
We'd love to see you there! And if you're not in the San Francisco area, we'll be hitting the road. Between us, Aislinn & I will be bringing prostate pleasure to every major city in the US and lots of smaller towns, too. Follow us on Facebook, Twitter, or Google+ for updates, or check out our event page. So far, we're booked for Boston, Portland OR, Seattle, San Francisco, Baltimore, San Rafael CA, Santa Cruz, and San Diego, with lots more in the works. If you'd like to have us come to your town, get in touch and we'll see what we can set up.